AUTOMATIC MECHANICAL MOVEMENT: SEIKO/SII NH05B DATE
Hour + Minute + Center-Second + Date
Specifications:
Size: 7 3/4''', diam.17.50 mm or 8 3/4''', diam.19.80 mm (with dial support)
Height: 5.92 mm
Static accuracy per Day: - 35 + 55 sec
Isochronisms per Day: - 35 + 35 sec
Posture difference: under 90 sec
Running time: more than 40 hours
Vibration frequency: 21'600 per Hour
Jewels: 21 pcs
Lift angle: 52 degree
Antimagnetic: DC => 4800 A/m
Quick date correction
Winding with ball bearing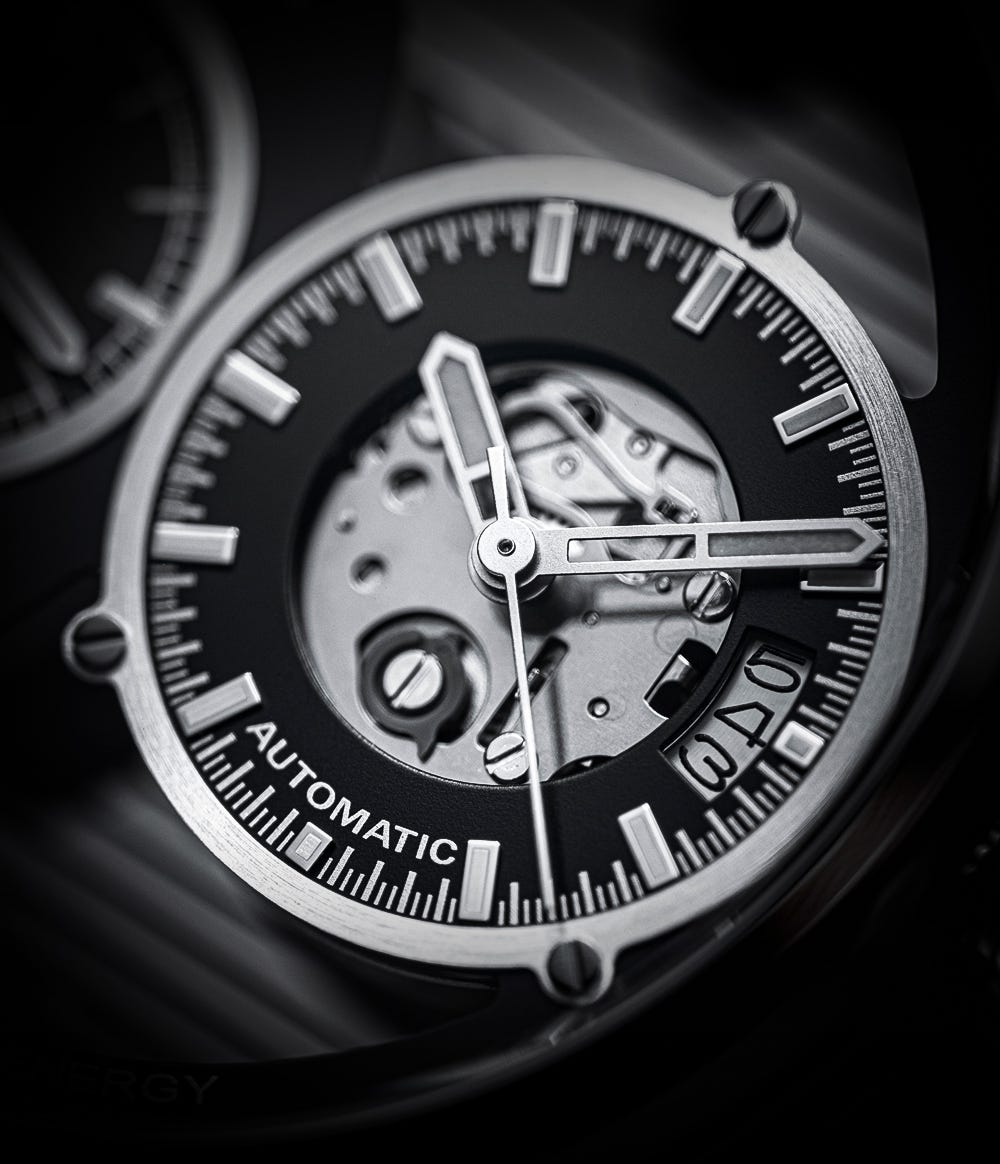 SOLAR QUARTZ MOVEMENT: EPSON VS17A
Hour + Minute + Center-Second
Specifications:
Movement dimension
Height (mm): 2.79


Time Standard
Frequency of quartz oscillator: 32'768 Hz
Accuracy: + - 20 seconds per month
Operating temperature range: - 5 degrees C to + 50 degrees C

Indicator / Functions
3 Hands with Reset switch: Hour / Minute / Second
Setting mechanism / MANUAL: Crown at normal position: Free
Crown pulled out 1st click: Time setting / Reset
Power depletion warning function: Second-hand moves at 2-second intervals when voltage is 1.10V
Running time: Approximately 6 months (After fully charged)
Features
Jewels: 2 Jewels
Anti-magnetism: Over 1'600A/m (Direct current magnetic field) Driving current consumption Approx. 0.40microA (1.35V)
Operation stopping voltage: 1.0 V
Solar Cell type: Amorphous silicon solar cell

Secondary Battery. This secondary battery is without any environmentally harmful substances! Do never set and charge a silver oxide battery, there is a possibility of battery explosion!
Type: Titanium-lithium-ion secondary battery
Lifetime: 8 - 10 years
Size: Diam. 5.80 x t 1.65mm
Nominal voltage: 1.5 V
Capacity: 1.8 mAh

Charging time
By fluorescent lamp, inside the office (700 Lx): impossible for a full charge, 45 hours to operate steadily
By fluorescent lamp, 30W / 20 cm (3'000 Lx): ~85 hours for a full charge, 10 hours to operate steadily
By Sunlight, cloudy weather (10'000 Lx): ~25 hours for a full charge, 3 hours to operate steadily
By Sunlight, fine weather (100'000 Lx): ~4 hours for a full charge, 25 minutes to operate steadily
Overcharge prevent function: An overcharge prevents function is equipped to avoid deterioration and breakage of the secondary battery.
When charging the watch, do not place it too close to a fluorescent lamp or other light sources as the watch temperature will become extremely high, causing damage to the parts inside the watch.